LML BEGINNERS GUIDE
Here are some answers to the most frequently asked questions on this forum. Most of the information below has been collated from posts on this forum but some answers may include links to other scooter related website.
TWO STROKE OIL
:
If you own a two stroke LML then I hope you also own a bottle of 2 stroke oil! The Oil goes into the oil filler tube (the one next to the petrol cap) most people recommend you top this up so it is about an inch from the top of the tube.
What Oil you use is really a personal preference but the most common advice seems to be buy what you can afford.
Fully synthetic two stroke oil is the most popular choice and will burn cleaner and leave less carbon deposits on your engine the mineral or semi synthetic oils. It is also the most expensive.
Semi Synthetic two stroke oil is cheaper then fully synth and does a similar job. A good choice if you are a bit strapped for cash.
Mineral (dyno) oil is better off left on the shelf it will leave carbon deposits on your engine which will eventually build up and hinder performance. Save it for your lawnmower!
GEAR BOX OIL
:
The LML gearing sits in a bath of oil to keep everything lubbed up and running smoothly, this needs to be changed at least every 2500 miles.
Changing the oil
below the gear selector, right underneath the scooter. You will see a nut that will generally have the word oil embossed on it. We need to remove this. This is where the gear oil will drain from so make sure you have a suitable container to catch the oil as it pours/drips out. Use this image to locate the nut.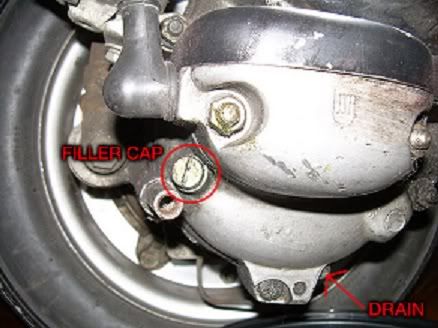 Once it has all drained replace the nut. Now remove the filler screw. We are now going to replace the oil with SAE 30 oil. Use a large syringe and replace the oil with 250 ml of the SAE 30. 250 ml is the recommended amount to replace. If you put more in then you will be in danger of getting oil leaking out form the casing etc. When the scooter is running the oil heats up and expands, that's why we only put 250 ml in. Once the 250 ml is in then replace the filler screw. We now move under the scooter.
(Tony 2010)
TYRES
:
What are the best tyres for our scooter? A question often asked but never really answered as there really is no wrong or right answer. However one thing that is agreed by 99.9% of LML owners is that the Nylogrip tyres that come on the scooter offer very poor grip especially in the wet and should be taken off and burned as soon as possible.
It's really all down to personal choice; if your scooter is a mod machine then you are more than likely going to be after some white walls. This really narrows down your options as there are only a few on the market for our scooters. If you care more about grip then again there a varied opinions on what perform best. Again like the oil at the end of the day you get what you pay for.
Allot of people use Michelin s83's, these tyres are not the top of the range but they are miles better than standard nylogrips and are great value for money (please search topics for tyre reviews).
What ever tyre you do choose the size you want is 350/10, the 350 bit refers to the width while the 10 refers to the diameter of the rim. Search Google and make up your own mind.
There is a good tyre discussion here
viewtopic.php?f=6&t=1581
this video shows you how to change a tyre
http://www.youtube.com/watch?v=BAS3YA9x ... re=related
RUNNING IN
: If you bought your scooter new then you will need to carefully run the engine in. Your engine will last allot longer and perform allot better if you follow the running in procedure. It's hard not to ride it like you stole it from day one but trust me a bit of patience will save you allot of headaches in the future.
Here is what is considered by most to be the best way to run in your new engine.
For the first 500 miles do not exceed 35/40 mph the key is not to stress the engine no more than half to three quarters throttle . If you are going up a big hill then knock it down a gear to take so that the engine isn't straining to pull your fat arse against the almighty force of gravity.
Try and maintain constant speeds keep the engine under load but don't push it.Dont be afraid to open it up every now and then but avoid periods of wide open throttle.
Never ever ever add any oil to your tank, no matter what anyone says, it will ruin your engine, if you are worried about cooling or auto lube the just increase your main jet by one or two for the run in.....
That's basically it very simple but very hard to stick to when all you want to do is test the top speed of your new pride and joy!
SERVICE
Once your engine is run in you will be ready for your
500 MILE SERVICE: While completing the 500 miles service yourself is a great way to get to know the basics of how your scooter works it's always good to check with your dealer if this will void your warranty.
If you get the all clear then here is a guide to help you GOOD LUCK!
All torque settings can be found in the LML service station manual from
http://www.iheartstella.com
First of all - tools and equipment.
Tools - Socket set, flat and Phillips screwdriver, pliers, tyre pressure gauge, spark plug, large syringe
Products - Copper Grease (about 5 quid, will last for years though), SAE 30 Scooter engine oil (1 litre is 6 quid), carb Cleaner (tins available in Pound shop believe it or not)
total cost of products should be about 15 quid or so for a first service, going down to about 1 quid for the next as you have already bought the stuff as above.
Let's start. Your LML should be on its centre stand. We are going to do a tip to toe service, let's start at the....
Front wheel
Check your tyre for tread and any rips, scores, bulges and foreign objects. Give it a spin and inspect. If you have any rips, scores, bulges, objects or if your tread pattern is not visible, then replace your tyre. If it's fine then check the pressure. Ideal pressure range is between 22 and 27 PSI, no more please. Next take out your 13mm socket and check the wheel nuts are nice n tight. Tighten to torque settings is recommended but I "make em tight". Happy with that? next give it a spin and then pull on the front brake. The wheel should stop instantly with the drum brake. Check the cable end is not frayed and "gunked up" with road film. Give it a clean and grease. While you are there give the wheel a clean with soapy water and even a wee spray (optional) with a can of tyre spray from the pound shop, its a nice touch.
Headset/Controls
Moving up to the headset and controls now. Start the scooter and check the indicators, horn, dipped/full beam. Ensure all reflectors and lights are free from damage and clean. Make sure your brake light comes on with the back brake AND front brake, as the front brake switch sometimes goes a bit diffy. Operate the throttle from no throttle/mid throttle/full throttle, just for a second. We are looking for a "non sticking" throttle, it should return of its own free will. Then switch off. Check the DOT 4 reservoir on the right hand handle bar. Make sure the fluid is on the line. Operate the clutch lever, this too should "spring" back after operation, we will look at the other end of the cable in a bit.
Toolbox
Open up the toolbox and check that both horncover screws are tight. They are Philips screws located either side of the steering column. Move to each indicator now and ensure the earth wire is tight to the frame. Also ensure that no tools etc (even the pit stop prop) are touching the earth or the indicators themselves.
Engine Side
On to the engine now. Remove the side panel and firstly just have a look. If you have any "Gunk" or engine spray then give it a spray and a cleanup. Take the plug out and replace with a new one. Now remove the plastic cylinder head cowl. One Philips screw on its bottom, one 11mm nut on its top. Using an 11mm socket check the cylinder head nuts are nice n tight. I won't cover the HT lead etc as this is covered elsewhere on the forum by Laurie. Just use the search facility above. When replacing the plastic cylinder head cowl, be sure to tighten the screws that hold it in place. Many a scooterist has been dumfounded by a rattle or noise caused by an insecure flywheel cover or cowl. We can move onto the crab now. I always give it a clean as part of a service. So, remove the screws that hold the carb top,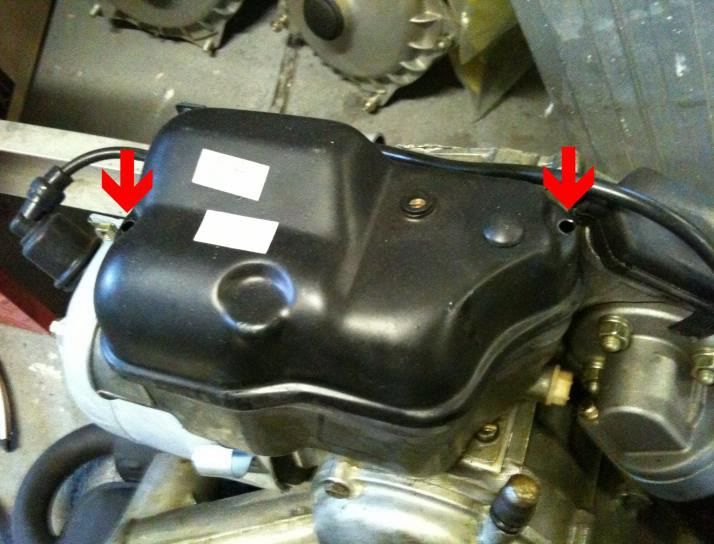 The photos are borrowed from Adam at Vivo ( thanks Adam)
Now the air filter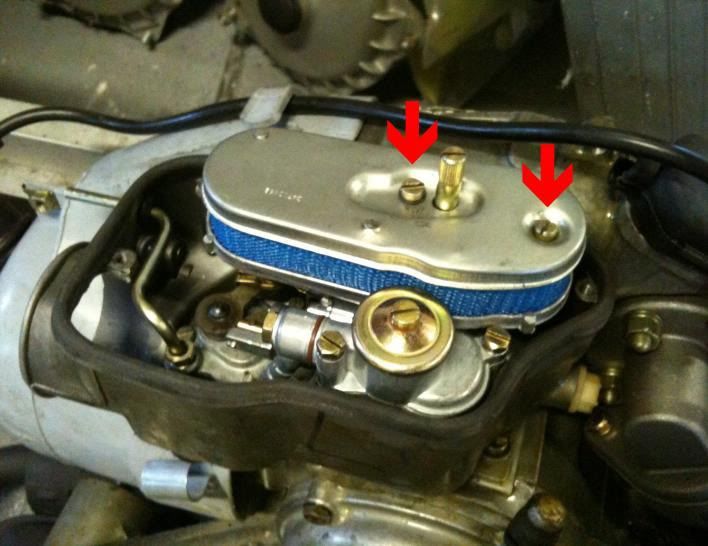 and then remove the idle jet ( small one) and the main jet ( large one)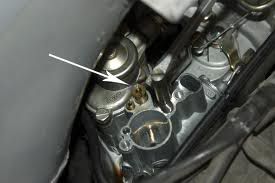 Using your carb cleaner, take hold of your air filter , longways, and spray the mesh from top to bottom. Then shake. Take each jet and firstly spray through the holes in their stem and then through the main hole in the top, and shake. Replace the jets and the filter. Still with the can of cleaner, just give your carb a general scoosh about to clear any dirt etc. Ensure the carb rubber is in one piece and free from damage and replace the carb top.
Below the flywheel you will see a small box; this is where the gear cables/selector is housed. Undo the screw and remove the lid. It will look like this but have the cables connected
make sure the cables are not frayed and that there is plenty of grease. Tighten lugs and then replace lid.
Changing the oil
below the gear selector, right underneath the scooter. You will see a nut that will generally have the word oil embossed on it. We need to remove this. This is where the gear oil will drain from so make sure you have a suitable container to catch the oil as it pours/drips out. Use this image to locate the nut.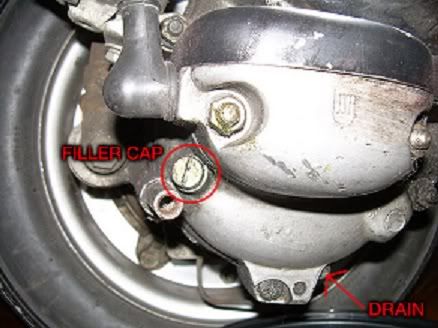 Once it has all drained replace the nut. Now remove the filler screw. We are now going to replace the oil with SAE 30 oil. Use a large syringe and replace the oil with 250 ml of the SAE 30. 250 ml is the recommended amount to replace. If you put more in then you will be in danger of getting oil leaking out form the casing etc. When the scooter is running the oil heats up and expands, that's why we only put 250 ml in. Once the 250 ml is in then replace the filler screw. We now move under the scooter.
Clutch cable
Check and adjust the clutch cable. Ensure it is tight and not frayed etc. Make sure that any road film/dirt is removed. If you are unsure of how to check and adjust then just have a watch at this you tube clip
http://www.youtube.com/watch?v=e0mBF-ZWVu4
Rear Wheel
As with front wheel above however we want more air in the rear, so between 25 and 30 PSI here.
Wheel above however we want more air in the rear, so between 25 and 30 PSI here.
Battery Side
Remove the side panel and check your spare wheel. As before, pressure, tread, etc. Remove it from its position to expose the battery. Ensure battery connections are nice n tight and that the battery strap is not frayed/ripped/broken, if so replace. Replace panels on both sides now.
Now just go around the scooter with both screwdrivers/11mm and 13mm socket. Any nut, screw etc, give it a check. Make sure they are nice n tight.
Now stand back and admire your scooter. Give it a good old wash and go for a spin, safe in the knowledge that you have serviced it and that it is in tip top condition. If, during your service, you find something that you are unsure of, then stick a post on the forum. Someone will know the answer, that's a given!
(Thanks again to tony for this write up)
Finally after topping up your 2 stroke oil, changing your tyres running in the engine and bravely taking on the first service you decide you want a little bit more poke from your engine. You have heard the term de-restriction mentioned alot so what's it all about?
The EU has its hand round the throat of your LML and it is squeezing tight! This hand takes the form of extra filtration, lean jetting and an exhaust that saps the power from your poor little engine.BASTARDS!
But don't worry this is simple to fix.DE-RESTRICT IT.
The men in the know at scootering magazine ran an article on how to prize the fingers of the EU from around the neck of your LML and in the process let you travel up 15mph faster and it will cost you very little !
Don't believe me? Then read this you doubting Thomas!
http://www.lmlocgb.co.uk/workshop/lml-125-star-dlx/
See I told you! Simply follow the instruction in the article and let your scooter breath!
Again it is always worth checking with your dealer to see if this will void your warranty.
Once your scooter is de-restricted you will have to do a few checks just to make sure the engine running right. The best way to do this is to carry out what is known as a "plug chop" this will check that the "jetting "in your carburettor is correct. If it isn't you could run the risk of heat seizing your engine.
CONFUSED? Don't worry I'll let Eddy explain (this section was copied from the original LML owners club forum)
LML JETTING/PLUG CHOPPING HOW TO.
We get at least a couple of calls a day asking how should a specific setup be jetted. The answer is that there is no specific crib you can follow only suggestive jetting. This is because each engine and each specification will run differently.
Therefore I am going to have a go at an 'idiots guide' to basic jetting to try and help novices out.
all advice below is based on:
1. correct static ignition timing is set.
2. you have a good fat blue spark
3. you have good compression
4. you have a good fuel supply and a clean carburetor
5. you have unrestricted air access.
If you do not have any of the above you cannot 'jet' as you are jetting against false reports and you will waste your time and possibly cause damage. If you are not confident always seek professional advice.
if all of the above is correct then the following will apply.
THE CARB is a device that mixes petrol and air together to make an explosive gas suitable for detonation. Air contains oxygen which will burn at 2000 degrees plus. Therefore the percentage rate between petrol and air (oxygen) is critical.
if the balance has too much air the engine will run very hot and heat is your enemy. It is only heat that causes damage.
if you meter too much petrol your engine will actually run cooler. This will not damage your engine but will mean it will run inefficiently and eventually 'coke up'. Once installed you cannot alter the rate of air metering but you can alter the metering of petrol to that air!
two things.
1. a simple way of monitoring your engine detonation temperature is to look at the colour of the deposits on your spark plug.
a. too (petrol)rich will present a black sooty plug.
b. ideal will present a chocolate brown plug.
c. too lean (not enough petrol) will present a tan to grey plug.
2. you have three dynamics you must understand. Firstly the active parts of your 2t engine are, carb, top end (barrel/piston) and exhaust. Both the top end and exhaust are fixed and un manipulable. The carb is highly manipulable so in essence you are effectively 'tuning your carb' to your exhaust, through your top end. In other words your carb is critical in engine setup and the top end/exhaust are just dumb lumps of metal.
THE LML/PX DELLORTO/SPACO SI/20-20 & 24-24 D/E type CARB. your carb allows air to be sucked in at metered rates depending on how much your slide is opened. The engine inductions causes a vacuum inside the carb venturi which will want to draw petrol/air through two circuits so that it can spray its mixture into the inlet to form an explosive gas.
the small pilot circuit is called the 'idle circuit'.
The main circuit is called just that, 'main'.
The idle circuit is a misnomer because it actually draws air/petrol through it up to approx 3500 rpm.
The main circuit draws the same mix through it up to full throttle. These two circuits overlap and do not cleanly switch from one to the other. Typically over three quarter open throttle and you will be exclusively on the main circuit only.
Of these two circuits the idle one is easier to get right and less dangerous if wrong. This is because you are on this at lower speeds and so therefore lower heat. The main circuit however is very different. Get this wrong and you can heat seize your engine throwing you in to the nearest ditch.
HOW TO PLUG CHOP AND READ THE CIRCUITS.
You can imagine that if you bimbled around town, took your plug out and read it you will only be reading the idle circuit. Do this if you want to guess your idle jet required. If you look at this jet it will have two numbers on. The two digit is petrol, the three digit is air. A standard P200 for instance reads 55/160. Alter this up and down by repeated plug chops to get this circuit correct.
If you cruised at 55mph (three quarters throttle +) plus, switched your ignition off and glide to a stop your plug would give you a reading on the main circuit only. You can make main jet alterations to suit. Too lean go up in petrol jet size, too rich come down. These jets come in increments of one typically ranging from 94-132 and is petrol only. The air mixture bit that allows more or less vacuum to draw fuel through the whole circuit is the middle section called a mixture tube. Again they range from BE3-BE7. The larger the number the less air is allowed through and so therefore riches petrol/air mix. The air corrector or the screw at the tops corrects air as it enters the whole assy.
GOT A NEW ENGINE AND ARE TOO SCARED TO RAG IT TO READ THE PLUG? You have to be brave to do this but if you take your scoot around the block to warm it when you come back pull the clutch in and rev it like mad for a few seconds over three quarter throttle. Then switch your ignition off and glide to a halt. You can then read your main circuit as the last deposits to be laid down will be from your main circuit only.
AIR CORRECTOR
As a rule a/c for large blocks (200) and some high tuned small blocks (125-150) run better with 160 a/c. average tuned and 150cc small blocks prefer 140. 125's prefer 120.
DIFFUSER/ATOMISER/MIXER TUBE
Typically 200cc large blocks prefer BE3, 150 and 125cc small blocks range down from BE4-5
MAIN JET
Typically 210 engines would run on 130 m/j, P200cc-116, 150cc-107, 125cc-97.
EURO III LML YOU SHOULD KNOW. To pass emissions testing LML have set their engines to run very lean. The main jet is 94, the mixer tube had to be invented and is called an E3, and 120 a/c. In addition the euro III has two air filters and a catalyzed exhaust. All this conspires to give poor performance but are very fuel efficient.
You can see right away that adding a performance expansion box or chamber to your LML will alter the dynamic of your magic triangle, carb-pot-exhaust. By changing the exhaust your carb will have to be balanced or tuned against the new piece of kit and through the top end pot which remains the same. If you do not rejet you will run lean and seize. Similarly if you change your pot for instance you have still disrupted the triangle. Again rejetting is required. If you alter your pot and exhaust radical rejetting is required.
Makes sense? If not just as and someone will help you but the above explains the basics very well.
These tables help illustrate the above information a little clearer (thanks again to Adam at Vivo)
Idle jets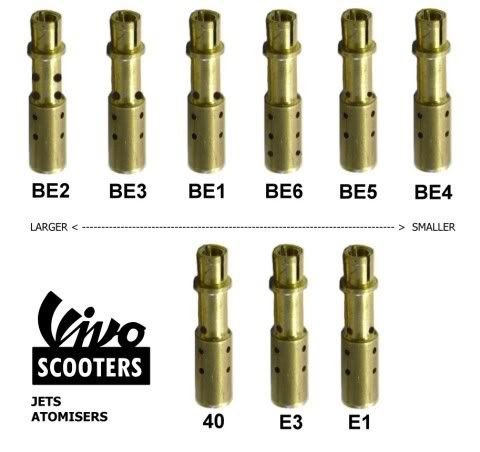 Above are the mixer tubes.
Finally SPARK PLUGS
125 scooters need an "hs" or short reach spark plug while the 150's will need an "es" or long reach plug. Put the wrong plug in and your engine won't run right.
The number on the plug refers to the heat rating the lower the number the hotter the plug. For around town stop start riding a B6 or B7 plug is best and for motorway or long periods of full throttle riding then use a cool plug e.g. B8
So that's the basics should be enough to get you started I'm sure you have 100's of questions feel free to ask and someone will be more than happy to help you.
We all gotta start somewhere.
Here are a few useful links:
http://www.lmlparts.co.uk/
here you will find all the parts you could ever want,be sure to check stock levels before ordering or you could be in for a long wait.
http://www.scootercentral.net/forums/
same as the LML owners club but full of Americans (and their attitude) a great source of info.
http://www.modernbuddy.com/forum/forum1 ... f5663150fe
Another American site with a Stella section and some good information on the 4T.
http://iheartstella.com/genuine-stella- ... s-manuals/
here you will find the Stella owners and service manual. In America LML's are called stellas . I'm not sure what they call larger that makes you beat your wife!
To be continued...